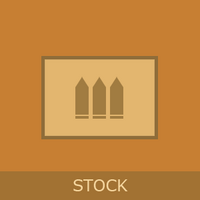 "Limited ammo, Accuracy is key"
—Description from Geometry Wars 3: Dimensions
Stock is a game mode introduced in Geometry Wars 3: Dimensions as a multi-player exclusive mode, and was later included as a single-player mode in the Evolved update.
The single-player version of the mode only makes three appearances in the game, all three of them are in Ultimate Mode. This makes Stock tied with Sniper as the least featured game mode.
Gameplay
Edit
In Stock, the loadout is the same across all levels. The player is given infinite lives, and a standard 1 bomb and no supers.
The main feature that is unique to this mode is a ticker on the player ship itself that shows how much ammo that is currently in possession and ready to be fired. As soon as that ticker reaches 0, the player will no longer be able to fire any shots. In order to keep a steady supply of ammunition, the player needs to regularly pick up ammo pickups that spawn scattered around the level.
The levels themselves are fairly standard, featuring similar gameplay to Sniper in many cases, the enemies that spawn mostly spawn in preset waves and in relatively few numbers compared to other, more frantic game modes, such as Evolved.
Each level has its own rules and features, to learn more about a specific level, simply read its respective page.
Ultimate Edit
Level
Star goals(points)
Level Loadout
5. Syndrome

1 ☆: 250,000
2 ☆: 750,000
3 ☆: 1,500,000


∞ Lives
0 Supers
1 Bomb


15. Bullet Chase

1 ☆: 500,000
2 ☆: 1,000,000
3 ☆: 2,000,000


1 Life
0 Supers
1 Bomb


33. Nutshell

1 ☆: 500,000
2 ☆: 1,000,000
3 ☆: 2,000,000


∞ Lives
0 Supers
1 Bomb